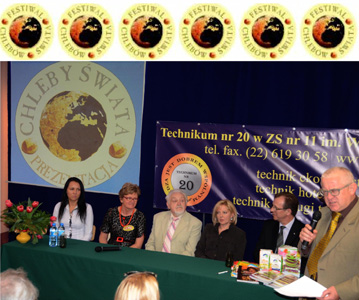 FESTIWAL CHLEBÓW ŚWIATA – Konferencja prasowa
W dniach 21 – 23 marca 2014 organizowany jest Festiwal Chlebów Świata. Celem tej inicjatywy jest promocja chleba, pokazania jego powszechności ale i równocześnie różnorodności w zależności od kraju pochodzenia
Będzie ona składała się z dwu sektorów, pierwszy  to prezentacja wypieków pieczywa, drugi to ekspozycja producentów pieczywa i związanych z piekarnictwem różnorodnych produktów czy sprzętu.
Do wzięcia udziału w żywej prezentacji chlebów świata zaproszeni zostali  Casa Artusi (Dom Ojca Kuchni Włoskiej) z prezentacją piady, producentów bliny, pizzy, pity, macy, ciapati (roti), lewasz, tortilli, oraz opłatka wigilijnego,  Muzeum Żywego Piernika w Toruniu, Poznańską Lokalną Organizację Turystyczną z pokazem wypieku rogali świętomarcińskich, Muzeum Rolnictwa w Ciechanowcu z wypiekiem chleba na zakwaście, przedstawicieli ambasad ze wszystkich kontynentów z pokazem własnej tradycji wypieku chleba.
Gościem specjalnym będzie Polski Kosmonauta który podzieli się doświadczeniami kulinarnymi z kosmosu. Na tę okazję sprowadzony zostanie chleb kosmonautów.  
Nie zabraknie też pokazu rodzajów ziarna oraz mąki.
Realizacja projektu będzie bezprecedensowa ekspozycja Chlebów Świata, pozwalająca poznać nie tylko dzieje chleba, ale też – wszelkie jego odmiany występujące w różnych regionach świata.  Taka prezentacja to podkreślenie uniwersalnego wymiaru chleba jako pożywienia, który w znanej czy nieznanej dotychczas innej formie można go znaleźć w każdym zakątku kuli ziemskiej zamieszkałym przez ludzi. Inauguracja Festiwalu Chlebów Świata" odbędzie się 21  marca 2014r. w  pierwszym dniu wiosny.
Uczniowie szkół w tym terminie mają własne zwyczaje. Dlatego by ten dzień mogli jak najlepiej zagospodarować wszystkie szkoły z Warszawy jak i Mazowsza otrzymają zaproszenie do wzięcia udziału w tym Festiwalu. By temu Festiwalowi nadać najwyższą rangę organizator zwraca  się o patronaty do  resortów centralnych związanych z tematyką piekarnictwa, organizacji samorządu gospodarczego.
Wystawcom oddane będzie do dyspozycji 1500 m2 powierzchni wystawienniczej. Dzięki współpracy z urzędami dzielnic Warszawy, szkołami, mediami spodziewany jest udziału  kilkunastu tysięcy  osób.
odbędzie się w dniach 21 – 23 marca 2014
Warszawa, ul. Ratuszowa 13
blisko od dworca Wileńska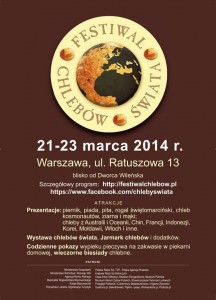 Szczegóły programu:
http://www.festiwalchlebow.pl/
https://www.facebook.com/chlebyswiata